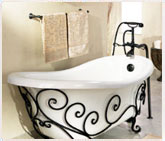 Bathroom decor is important for all those people who want to make each and every corner of their homes a beautiful place. Wrought iron bathroom accessories give rustic and sometimes country or even antique look to any bathroom. The most distinguished bath accessory made in wrought iron is the clawfoot tub. These bath tubs are often made with the combination of wrought iron and some other material like acrylic. There are many other wrought iron bath accessories that are capable of giving a Tuscan and even a classic Mediterranean look to a bathroom. There are wrought iron towel racks or
shelves
, towel bars, tissue holders, hair dryer caddy,
mirrors
with decorative frames or stands, and many other such accessories for beauty lovers. Many wrought iron bath sets are also available which consist of towel bars, towel rings, and bath tissue holders.
The wrought iron bath accessories having straight or curved designs, come in a variety of thicknesses, colors and sizes. Toilet paper and towel holders have various wrought iron shapes on them like
rooster
, bears, hearts, flowers, birds, horses, plants, trees insects, stars etc. to give a unique style to bathrooms. Many other wrought iron hardware such as wrought iron faucets,
knobs
and cabinet or
drawer pulls
are also abundantly available to complete the wrought iron bath decor.