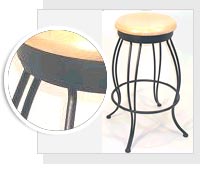 Wrought iron benches serve both utilitarian and decorative function and is considered an apt product for ornamentation of the garden or indoor ambiance. They add a touch of warmth and charm to the surroundings and a well placed bench can be a visual focal point as well as an invitation to rest. Wrought iron has for long been used in making benches as it can withstand extreme conditions because of the durability factor.
Garden benches come in a variety of colors and materials and while choosing a bench one should consider practicality as well as the decorative aspect of the furniture.
Wrought iron provides comfort with a fresh and refreshing look and hence iron furnitures can be used both for interior and exterior decoration. Wrought iron benches that come in powder coated finish are mainly used for outdoor purpose. A few examples of wrought iron benches both for garden and home decoration are "Abaline Bench", "Branches Bench", "Crown Panel Garden Bench", "Dressing Bench", "Folding Garden Bench" etc.
Wrought iron benches blend beautifully with any surrounding like a garden or home. Just as garden benches provide a peaceful resting place, it also complements the natural surroundings and helps people in enjoying the endless pleasures of nature. Home décor benches are both items of utility and decorative pieces that add an antique touch to the interiors and makes them look unique.
Finish
Nowadays wrought iron is powder coated to make it more durable or long lasting. Due to its high glass content wrought iron has a natural resistance to corrosion.
The patio furnitures made from wrought iron often come in White, Forest green or Black finish. A few drops of kerosene or turpentine can remove any traces of rust on wrought iron patio furniture. Coating the furniture with paint or wax will bring out the true beauty of the wrought iron product.