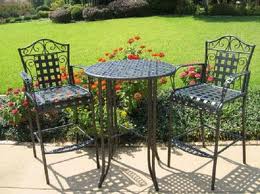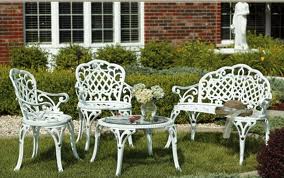 Send ONLINE ENQUIRY for Wholesale Purchase of Wrought Iron Garden furniture, Wrought Iron Outdoor Furniture, Wrought Iron Lawn Furniture
Why Wrought Iron for Garden Furniture?
As already mentioned, wrought iron is one of the most popular materials used in the making of garden or outdoor furniture. There are many reasons for which wrought iron is the most preferred materials for furniture/ Some of the resons are as follows:
Cost
: wrought iron garden furniture sets are comparatively less expensive than other metal furniture.
Durable and Rustic:
Wrought iron lawn furniture is very durable and can be over used. Wrought iron material works well in gardens with a kind of rustic look, which suits the surroundings. Wrought iron garden furniture is quite heavy and solidly constructed.
Rust Free:
The wrought iron furniture is electroplated or powder coated which make them rust retardant. The furniture pieces can withstand harsh weather conditions from sunny weather to heavy rainfall, without being rusted or corroded, which make them a popular choice for garden furniture.
Lots of Design Options:
The best part is that wrought iron furniture is available in various designs and styles from the traditional look to the contemporary styles, which can easily enhance the look of the garden.