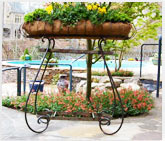 Wrought iron is the perfect material to create distinctive features in a garden. A yard and garden is the perfect place to renew, refresh, or relax. Wrought iron garden decor & features can dramatically enhance the beauty of these areas. The decoratives are crafted out in such a way that they add immense charm and elegance to the gardens, also meeting the functionality at its best. They boast of an array of designs, are interestingly ready to assemble, by virtue of which, in a short time, an ordinary green area is transformed into a garden paradise.
Types of Wrought Iron Garden Accessories
Wrought iron garden decor items are of various types. Some are functional like gazebos, fences and benches, some are decorative items just used to make the garden area look beautiful. All wrought iron garden accessories play a vital role in highlighting the garden spaces. The most popular wrought iron garden decor items are as follows:
Why Wrought Iron Is So Popular?
Wrought iron as a metal is a easily malleable material that contains little carbon. Hence the metal can be easily bend into various shapes. From the sleek, straight patterns to the delicate twists and curves given to the metal can easily transform wrought iron into a large number of decorative items. They are then powder coated to give a smooth finish and can be painted black or white. Some are given antique finish to resemble the traditional look. Moreover, wrought iron is also a durable metal and is rust free if properly taken care of. Wrought iron becomes a perfect choice for garden decor because of its durability and style. Whether you use a
wrought iron fence
to enclose a garden or place a wrought iron statue in the garden, any touch of this material will beautify your garden space. Wrought iron will also stand the test of time and the outside elements, making it a perfect choice for your outdoor decor.
Related Articles