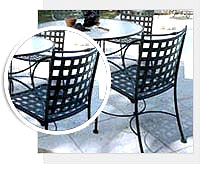 Wrought iron furniture
is suitable both for interiors as well as exteriors. It is often intricately decorated and can be placed in any surrounding to bring in the old world charm and mysticism associated with it. Outdoor wrought iron furniture gives an elegant look to the garden or pathway leading to ones home.
There are a wide variety of outdoor furniture available which can enhance the beauty as well as serve a utilitarian purpose. Wrought iron garden or patio furniture brings style and adds the mobility factor to the outdoor living lifestyle.
Nowadays wrought iron is powder coated to make it more durable or long lasting. Due to its high glass content wrought iron has a natural resistance to corrosion.
Most of the outdoor wrought iron furniture are powder coated as it makes the iron rust resistant and more durable. Various finishes like a coating of white tile mosaic makes the wrought iron table beautiful and colorful to look at. The patio furniture is powder coated with black paint to make it durable since outdoor furnitures are exposed to extreme conditions and are vulnerable to getting rusted and losing its sheen. A thick coating and special sintering process ensures a lasting quality.
Wrought iron outdoor furniture has become more and more popular with each passing year. For timeless elegance and styles, many are opting for wrought iron furniture for outdoor decoration. This type of garden funiture is durable, sturdy, requires low maintenance, besides being beautiful to look at. Be it the sectional sofa or the sofa sets or the dining table sets or simple a pair of wrought iron chairs or wrought iron benches, The outdoor
made of wrought iron can make a lasting impression on your visitors. Wrought iron outdoor patio furniture sets can be found for less than the price of wood furniture. The styles available for this type of furniture is limitless. You can choose from the traditional style to the modern contemporary styles or rustic garden furniture. Each style has its own unique charm and there is a kind of rustic appearance of wrought iron outdoor furniture, which makes it suitable for garden or patio.