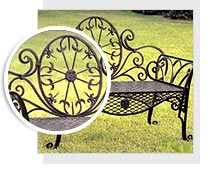 Garden benches make a wonderful addition to anyone's garden.
Wrought iron garden furniture
has its own charm and people love to possess them, just to give their garden a whole new meaning altogether. Many people prefer the look of iron for different reasons; perhaps its elegance is what draws them towards it.
Increased Popularity of Wrought Iron Benches
No garden, pool or patio setting is complete without simple, elegant, and comfortable wrought iron garden benches. Available in many designs, styles and sizes they enhance both small balconies and large patios/yards. Create a captivating garden of delights and enhance your garden with the timeless beauty of handcrafted ironwork. These wrought iron benches are not only beautiful, functional, comfortable and stylish, they are affordable as well. Wrought iron garden benches are both beautiful and functional, giving a wonderful enhancement to any landscape. The basic advantage of wrought iron garden benches is that because they are made of wrought iron they are strong, heavy duty and durable for many years.
Styles of Wrought Iron Garden Benches
Wrought iron benches offer majestic designs and promises to accentuate a garden and increase its value. They combine style and comfort to create eye-catching furniture. The attractive powder-coated, weather resistant finish protects the bench from rusting when left outdoors. Unbreakable ductile iron legs and seats make these benches durable to last for years. These benches feature the highest quality metal, welds, and finish available. There are lots of styles to choose from. There are so many varieties available that choosing just one at times become difficult. Wrought iron benches can range from very plain and simple designs to very fancy styles with a lot of detailing. There are benches with various designs like rooster, flower and leaf, floral patterns, hearts, simple straight lines, scrollwork style etc. They are also available in varied sizes. Some are simple benches made to rest your feet on. Others are made for two or more people to enjoy. They come in a variety of colors like black, white, red, green lime, although black is the most common color. You can also choose a wrought iron seat or a padded seat garden bench. There are also wrought iron benches with wooden seat and back or benches with wrought iron seats but wooden handles. There are so many options available to you.

Send ONLINE ENQUIRY for wholesale purchase of wrought iron benches, wrought iron garden benches, outdoor wrought iron benches
Taking Care of Wrought Iron Benches
Wrought iron is easy to clean and care for. If you want your wrought iron garden benches to retain its look for a long time, then follow these cleaning tips:
Keep the benches covered in times of harsh weather. Being heavy, they cannot be moved into a shed every season for protection. Make sure you cover them up with garden furniture covers. Even keeping them under a porch will help.
Make sure that your wrought iron benches have a protective finish or coating at regular intervals.
Oil or acid spillages, other liquid spills, bird droppings, can actually wear away the finish, creating weak spots. Therefore, it is important to clean the benches regularly.
Re-paint your benches in case if the finish has worn away on your wrought iron garden bench. For small portions, just do some touch-ups with paint. Otherwise repaint the whole bench.
Remove the rust in your wrought iron bench by lightly sanding the area. Then wipe it with a clean cloth. Now you can apply the touch up paint.
For regular cleaning, use mild soap and water. Rinse it off and then dry it off.