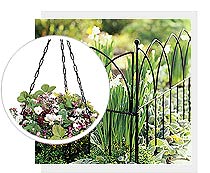 Wrought iron gates not only offers a passageway through a wall, fence or hedge into a garden or private yard, it also provides a great source of security to any private property. Along with that they add a touch of elegance because of the variety of designs being offered thus turning the entry way into a haven of sorts. The designs can be elegant, light, playful, classic, sturdy or even unique.
Wrought Iron Gates Designs
The shape and size of a garden gate may vary as per individual choice. Wrought iron garden gates are mostly available as single gates, double gates and railings. The flat top shaped gate is most suitable for pathways, gardens, side entrances etc. Single garden gates normally range from 0.9m to 1.7m wide and from 0.9m to 1.4m high. Arch with Shoulder-Single Gates are suitable for gardens, pathways or small side entrances. Small wrought iron driveway gates normally range from 0.9m to 1.7m wide and from 0.9m to 1.4m high. Archway Top-Single Gates are often used as entrance gates over small paths and to enhance security as side gates. The gates normally range from 0.9m to 1.7m wide and from 1.5m to 2m high.
Upward Curve-Double Gates with provide an upmarket look for prestige properties. Double gates normally range from 1.8m to 4.5m wide and 0.9m to 2.5m high. Most of the double gates such as flat top double gate, downward curve double gate, archway top double gate etc. are often used as entrance gates to give an upmarket look for prestige properties as well as for security purpose. They are not considered apt for garden entrance even though it depends on the concerned party opting for the design and shape of the garden gate whether they want to go for a double or single door entrance.
Skilled craftsmanship leads to a variety of beautiful designs being offered in the market. Designs vary from standard handcrafted ones to premium crafted ones. The garden gates are named after the designs such as "Fairmount", "Steeple Chase", "Spring Flower", "Peacock", "Baroque"
Finishes on Wrought Iron Gates
Products which get exposed to high temperatures should not be galvanized as they may give out fumes .Special finishes are apt for garden gates,railings and other products which might be exposed to extreme weather conditions .The following finishes are suitable for wrought iron gates.
Zinc Phosphate Black Primer/Red Oxide Primer :
For fabrication products the standard finish is black zinc phosphate ,which is a rust resistant hand or spray paint .An alternative finish with similar properties is red oxide primer finish.
Galvanized and Black or White Powder Coated :
Galvanizing protects iron from rust by providing a thick metallic zinc envelope that completely covers the steel surface and seals it from the corrosive action of its environment .This process will make the gates strong and durable.
Powder Coating makes the overall appearance of the iron gate attractive while applying black or red oxide primer paints further enhances its beauty and durability.
Increased Use of Wrought Iron Garden Gates for Home Decor
Wrought Iron Gates create a beautiful entry way into the garden, yard, or commercial property.They look very elegant and stylish and overall enhance the look of the house from outside. They make an important first impression of private space. An ornamental wrought iron gate offers an opportunity to enhance the entry way between private space and the outside world, besides providing a passageway through a wall, fence or hedge into your home. Wrought iron gates designs range from simple, sleek, elegant patterns to playful, classic, sturdy or even unique patterns. Wrought iron gates combined with
wrought iron fences
make a distinctive appearance of your garden and home, thereby increasing the value of your property. Wrought iron gates are seen not only decorating and providing security to residential houses but also in hotels, mansions, palaces, museums, gardens and parks etc.

Send ONLINE ENQUIRY for wholesale purchase of wrought iron gates, wrought iron garden gates, outdoor wrought iron gates