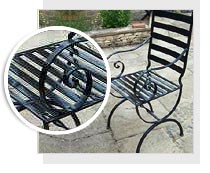 Wrought iron is extremely strong and durable, making it a tremendous value as it comes with a promise of years of comfort and low-maintenance. One can transform backyard, patio or porch into an outdoor entertaining space with these chairs. Furthermore, the traditional styling of wrought iron, for which it is famous, adds extended value as the garden chair will never go out of style.
Styles and Finishes of Wrought Iron Garden Chairs
Displaying a refined talent, astonishing pieces of wrought iron garden chair in innovative design and style has been crafted by the masterful hands. An exquisite range of wrought iron garden chairs can jazz up any garden. A wrought iron garden chair is absolutely the finest outdoor furniture one can have.
There are a huge variety of options and styles for wrought iron garden chairs, from bistro chairs to full-size arm chairs, scroll-back chairs, rocking garden chairs etc. Iron finish options range from natural iron finishes, to patina, antique to more distinct finishes to blend. There are beautiful classic and contemporary hand-crafted wrought iron designs giving a very beautiful look. Wrought iron garden chairs are designed to be comfortable, decorative and durable especially in patio, garden and outdoor environment. They are used not only for residential houses but also in hotels and any commercial projects. The fully welded wrought iron ensures maximum durability and each piece of wrought iron patio chairs are designed to ensure a lifetime of low-maintenance. When you need seating, wrought iron garden chair is very durable. It is made to last, and will be cherished for a long time. The chair is available in a variety of colors to suit your garden scheme. Colors include white, forest green, black, and red are very popular. These chairs with complementing
garden tables
and
wrought iron garden benches
add charm and elegance to any outdoor space. When cared for properly, wrought iron garden chairs can last for many years.

Send ONLINE ENQUIRY for wholesale purchase of wrought iron chairs, wrought iron garden chairs, outdoor wrought iron chairs