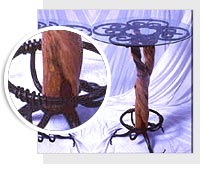 Wrought iron tables are one the most popular handcrafted and artistically designed items that are used in modern homes to enhance both the interior and outdoor spaces. Whether the wrought iron table is kept in the living room or bedroom or in the garden area, it would create a lovely focal point in any room. Wrought iron tables have today become one of the most popular choices of home decorators who want to augment grandeur of their living rooms or garden areas.
For centuries the rustic and fine arts of hand forged / hammered iron and glass blowing have endured man's modernization. Although cheaper forms of materials now take its place in new industrial structures, wrought iron has seen something of a revival within the home. Wrought iron accented tables offer a rustic and provincial look for the home. They remain striking and beautiful for decades of use. Made in a variety of finishes wrought iron tables are great enhancements for almost any kind of room's decor.
Types of Wrought Iron Tables
Wrought iron tables are available in various sizes and shapes and you can choose what types of tables will fit your needs and will fit in your current outdoor or indoor space. The different varieties are like :
Wrought iron tables with chairs can be placed at outdoor spaces such as garden, patio, lawn etc. to enhance the prettiness of the space. Round wrought iron tables look good in outdoor space. Wrought iron table sets can perfectly fit into the garden area, making the space look attractive, where you can spend a relaxing time yourself or with your friends, surrounded by a relaxing environment. Similarly, in the living room, the wrought iron console tables or wrought iron coffee tables, side tables, end tables can be a wonderful additions, creating an intricately detailed addition to your room's decor. They look all the more beautiful if they are accompanied by matching
wrought iron furniture
items and other
wrought iron decor
items.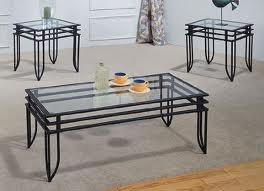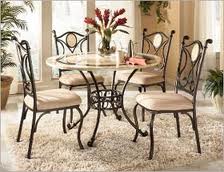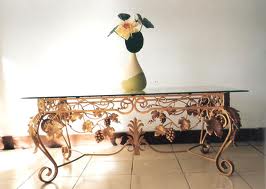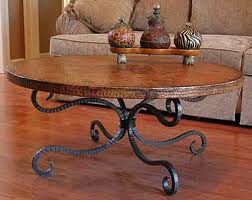 Send ONLINE ENQUIRY for Wholesale Purchse of Wrought Iron Tables, wrought iron table set, wrought iron wood table top, wrought iron dining tables, wrought iron glass table etc.


The wrought iron tables are finished with high quality paint to maintain their durability and to making them rust free. They are electro-statically coated and are anti rusting. They are forged nicely for smooth finishing on all the joints to create fast bond.
Wrought iron bases come in many different shapes, sizes and designs. Infact the beauty of the table is known from their shapes of the bases. The wrought iron table bases are designed to fit various different table tops. The wrought iron frame is available in round, rectangle and other shapes so as to be topped with a table top of that particular shape. These table tops can also have some amazing designs on them in order to fit in with just about any decor you have planned for your room. The
are great for solid wood, plain glass or frosted glass, marble top, granite top, laminated top etc. You can also check out more designs and styles of wrought iron table frames and table bases in our photo gallery on
.
The reason why wrought iron has become a popular material for modern day furniture items like tables, chairs are as follows: