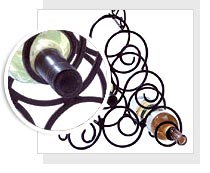 Wrought iron wine racks make efficient use of space, and are solid and durable. An attractive addition to any decor, these wine racks come in unique designs. The wine display allows one to display and store wine properly, either hanging flush to the wall, suspended from the ceiling or within a floor stand. Either way wine collection displayed in wrought iron hanging wine racks are sure to attract attention.
Wrought iron wine racks have been around for many years and most people love the detailed craftsmanship that goes into each piece. They are not viewed as a storage compartment rather they are considered artwork. One can create a most interesting and personal living space with these uniquely handcrafted pieces; the combination of style ranges from wine-storage/pedestal to the wall mounted wine racks. They are one of the most widely used
wrought iron handicrafts
for decorative and functional purpose.
Styles and Types of Wrought iron Wine Racks
These racks come in a variety of style and designs that will certainly compliment any kitchen, breakfast or dining area. They can also be used outdoors such as on porches and patios.

Single Wrought Iron Wine Holder:
This is a very simple, yet elegant, style wine holder to display a single bottle of wine. Available in various styles, this wrought iron wine rack makes a great gift for the wine connoisseur. Can make a wonderful display at the dining table.

Floor Standing Wrought Iron Wine Racks:
Floor standing wrought iron wine racks are available in an array of capacities and styles to fit any size space. They are basically displayed as a wine console holding a number of wine bottles and are always a conversation piece and superb approach to storing your wine collection.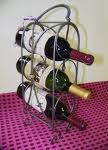 Counter Top Wrought Iron Wine Racks:
A counter top wrought iron wine rack is the perfect rack for storing smaller collections of wine on a dining table or living room console. Such styles are perfect where space is limited. They are available in a variety of styles and finishes to compliment any decor.

Wall Mounted Wrought Iron Wine Racks:
For those who are limited with counter or floor space, you can opt for wall mounted wine racks. They display your wine bottles in a stylish and fun way. A wrought iron wall mounted wine rack is becoming increasingly popular.
Send Online Enquiry for wholesale purchase of wrought iron wine racks