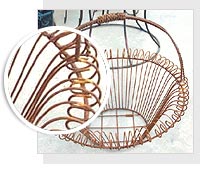 Wrought iron baskets play a beautiful role in overall enhancing the decor of a room, besides serving multitude of uses. These baskets made of high quality wrought iron are beautiful decorative pieces displaying a refined talent, with innovative allure and intricate designs. Reflecting the craftsman's zest for excellence, the wrought iron baskets create a wonderful display on a wall and on the floor.
Uses of Wrought Iron Baskets
Wrought iron baskets can be used in different rooms for different purposes like as follows:
Storing newspapers, magazines, photo album in the living room. Looks good when kept in a corner of the room.
Can be used as fruits baskets or bread baskets. This can be kept on the dining table.
It can be used to store food items, utensils and other items required in a kitchen.
In the bathroom, the wrought iron baskets can be used to keep towels and toiletries.
The beautiful wrought iron baskets can also be kept in the bedroom to keep cosmetics. This look very beautiful if the entire room's furniture is made of wrought iron.
Can also be used as plant holders. Looks all the more beautiful when kept hanging.
Finishes and Designs
Dedicated to the idea for classic and modern room styles wrought iron baskets carry an elegance of their own. They are available in various shapes and sizes. The standard finish for all is powder-coating. This is better as it can be re-painted to match the color of the home-decor as and when required. Once the basket is powder coated, it can be hand painted with the desired color and left in open air to dry and give a distressed look due to oxidation. Usually the color black is synonymous with wrought iron. But you choose other colors as well. Finishes may vary slightly due to uniqueness of hand paint application technique. Other similar finishes are brushing and hammering, hand rubbed pewter, hand rubbed bronze, copper, gold and brass accents.





Send ONLINE ENQUIRY for Wrought iron baskets