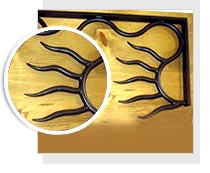 Wrought iron shelve brackets are a great way to display objetcs and at the same time organize and decorate ypur wall space. Easily attached to your wall a wrought iron shelf brackets adds a functional element to any room, and are perfect for supporting all the shelves you could need.
Use of Wrought Iron Shelf Brackets
If one thinks about the spaces where brackets are not used, garage or garden work shed would perhaps emerge as the only two such places. The wide usage of bracket is because of the fact that in every house there is a huge need of a place where one can safely display one's valuables. While considering shelf brackets for one's living room, kitchen or bedroom, wrought iron shelf brackets emerges as the first choice because of their decorative as well as functional characteristic.
Designs and Styles of Wrought Iron Shelf Brackets
Wrought iron shelf brackets are sleeker in design and fit well in any modern as well as traditional home decor. They are perfect for homemakers who want something classy and "different." The fundamental shape of all decorative iron shelf bracket is a simple right angle, with one side longer than the other. The shorter length is fasted to the shelf, the longer to the wall for maximum weight distribution of the load on the shelf. The bracket is usually placed under the shelf rather than above it for maximum support.
Wrought iron shelf brackets are marvelous, inexpensive home accents that can be used no matter what style of home one lives in. They are great for featuring small home accents like candles, plants, pictures, or statues and to hold cutlery sets in the kitchen. They are also a great way to add shelving to a room.
Related Photo Gallery
Check out in this photo gallery below the different designs of shelf brackets and how you can use the wrought iron shelf brackets in various ways:
Wrought Iron Shelf Brackets Designs & Uses

Send Online Enquiry for Wholesale Purchase of Wrought Iron Shelf Brackets