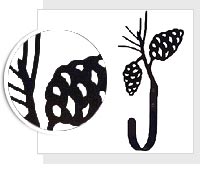 Wall hooks make an attractive display and adds charm to any room décor. The wall hooks are great for hanging towels, keys, plants, coats, bath robes, kitchen towels, pot holders, plastic bag holders, garden tools and any other product that one wants to keep close at hand. Available in various shapes and designs they are extremely handy and mobile objects and they complement a wide range of homes.
Wrought iron wall hooks are offered in a variety of styles and designs and each piece has its unique style and design leaving a number of options to choose from. The wrought iron diamond wall hook has a mosaic or stained glass panel inserted into it which gives it a very sleek look while the other wall hooks such as "Acorn wall hook", "Bear wall hook", "Fan leaf wall hook", "Light house wall hook" etc. Are a perfect addition to a country or shabby chic home décor theme or to a Rustic home décor, Log home décor and Western home décor theme.
Finish
Wrought iron wall hooks combine the two features of function and utility and make excellent handy products for home décor use. Most of the hooks come in a black, rustic finish or bronze finish which makes them rust proof and attractive at the same time. Iron hooks are easy to use and install and can be considered as suitable decorative and functional pieces.