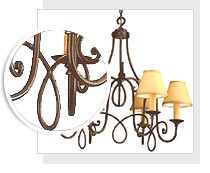 One of the latest and most popular materials used by interior decorators of late is wrought iron. In fact because of its durability, sturdiness, and easy fabrication in varied shapes, a wide range of products is being produced using wrought iron. Chandeliers are one of the most common product made of wrought iron and seen in modern homes today. Chandeliers are a romantic and 'period' way to light dining or living areas. With a look that ranges from the simple to the ornate, classically traditional to sleek modern, wrought iron pieces are among the most adaptable of all hanging lighting fixtures. As a focal point of a room, wrought iron candle chandeliers serve as a decorative style element that enhances the beauty of one's fine furnishings.
If equipped with a downlight, these chandeliers provide task lighting for the table and accent lighting for a centerpiece. When the light is dimmed, a soft, glowing atmosphere similar to candlelight is created. Hand crafted from wrought iron, they are available in varied shapes and sizes. Some are embellished with decorative elements of crystal/glass or unadorned, they are finished in a distinctive manner, reflecting the workmanship and detail of the craftsmen. Wrought iron chandeliers are among timeless
wrought iron crafts
that add classic design to contemporary and restoration architecture.
The ever-expanding choices of styles, finishes and design options have increased popularity of wrought iron chandeliers. It can add comfort and distinction to a house when used in living room, den, bedroom, kitchen, guestroom and to professional set-ups, when used at places like, the conference room, waiting room etc.
Related Article
How to Buy Wrought Iron Chandelier?
Related Photo Gallery
Aesthetic Styles of Wrought Iron Chandeliers