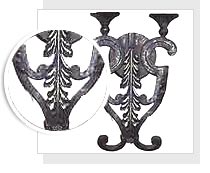 The wrought iron in the living room is still a timeless way to decorate. A wrought iron wall sconce would be eye pleasing on that empty wall in one's home, providing the ideal finishing touch on either side of a mirror or a picture. Styled in a traditional, contemporary or natural free flowing form, these scones add artistic interest to a room. Perfect for displays in smaller areas or larger area, these sconces always provide the ideal finishing touch to any kind of wall decor.
What is a Wall Sconce?
A wall sconce or simply a sconce is a wall-mounted light fixture. As the name suggests, it is attached directly to a wall. The only support of a sconce is the wall. Unlike other light fixtures, sconces are not hanged from the ceiling or they are not supported on their own base like floor lamps. Usually, the sconces are designed in such a way that they usually have closed bottoms and the light is thrown upwards towards the ceiling. Nowadays, sconces are designed that direct light down to the floor. Modern sconces are also seen open on both ends. Such light fixtures allow light to flow in both directions, up to the ceiling as well as down to the floor.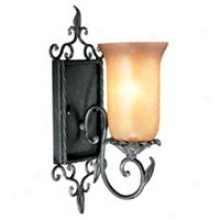 Wrought Iron Wall Sconce
Wrought Iron Wall Sconces
Highlighting the richness of Indian art and architecture, wrought iron sconces feature beautiful uncommon designs with a variety of enhancements that clearly make them conversation pieces. They add the design element that is perfect for contemporary home decor to country home decor and present a very subtle way to light the rooms offering an undeniable luxury.
Wrought iron wall sconces are designed to hold electric bulbs or candles.
Wrought iron candle wall sconces
are widely used in modern homes today as they create the perfect elegnace and ambience for that warmth and style. The extremely decorative candle sconces come in a variety of shapes like, square, rectangular, oval, circular and cylindrical.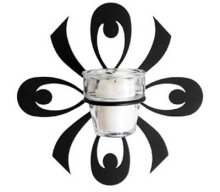 Wrought Iron Candle Wall Sconce
The wrought iron wall sconces have great decorative elements that highlight any place they are added to. No wonder today in many homes, people choose to have these wall sconces. Safety and a beautiful ambience are just two of the main reasons that people like to have these wall sconces in their homes. They are perfect in illuminating darker areas like hallways or staircases. Some people have long hallway where wrought iron sconce will not only decorate the bare walls with something beautiful and unusual, they also lighten up the long hallway. They are impressive
. Other areas where you can place wall sconces are in the large living room walls, dining room, bedrooms, outdoor wall sconces in porch or patio, and even on the both sides of your front entrance door or a window etc. By using wrought iron wall sconces, you will create your own beauty to the ambience of the place.