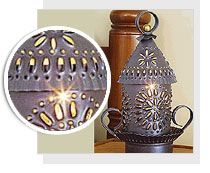 Lanterns with their unique designs and finishes are attractive decorative pieces that ornate a garden or home in a beautiful way. The lanterns can easily be hung on a tree or pillar top to give the entire surrounding an ethnic and antique feel and look. These lanterns are both charming and appealing thus adding a touch of glow and old world charm to the ambiance.
The primary purpose of the lantern is to provide a weather tight shelter for the lighting apparatus. Thus proper maintenance should be meted out so that the beauty of the iron lanterns do not weather down.
Some of the lanterns use tainted and colored glass to give a chic touch to the lantern. The various wrought iron lanterns such as "Verandah Hanging Lantern", "Standing Lantern", "Mediterranean Lantern", "Trombia Multi Colored Lantern", "Marrakesh Lantern" exude a glow that brightens up the entire ambiance.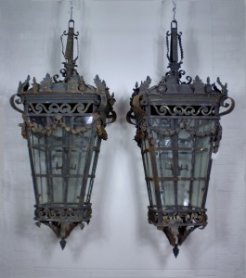 Finishes on Wrought Iron Lanterns
Wrought iron lanterns come in a variety of shapes and designs and the bronze finish complements this look perfectly. Lanterns with zinc finish makes them extremely attractive and appealing while enhancing the beauty at the same time .These lanterns can also come in rust finish, rich natural finish, rich bronze finish etc. The finish of these lanterns form the basis of their sustainability since a good finish will determine the ability to avoid corrosion from extreme weather conditions.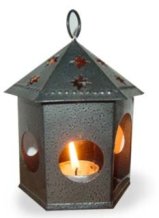 Send online enquiry for wholeslae purchase of wrought iron lanterns.