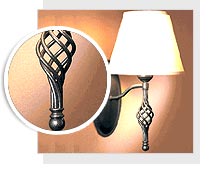 The wrought iron wall sconces are a type of decorative light fixture in very adorable, dashing, classic designs that are perfect for creating an elegant ambience in modern day homes. Mounted alone single or as a set of two or three, wall sconces, specially designed to hold candles will cast a soft glow, and create an atmosphere of intimacy and warmth. There is simply no substitute for flickering candlelight to add atmosphere to the interiors.
Elegant and beautiful,
wrought iron wall sconces
make fantastic gifts for family and friends to be given on weddings, anniversaries and birthdays. They are often designed to use a candle and a holder but could also be electrified. They work great when used individually or paired on either side of the mantel.
Wrought iron lighting
has been widely in use today.
Wrought Iron Candle Wall Sconces
Wrought iron candle wall sconces bring life into the homes, they are richly detailed for an expensive look. A symbol of wealth as well as hospitality, with classic style and functional design, these versatile pieces blend into most decorating schemes. Wrought iron candle sconces are available in various styles ranging from traditional, contemporary to natural free flowing form. They add an artistic touch to any wall. They are just ideal for display in both smaller areas and larger living areas. Wrought iron candle wall sconces always provide the final finishing touch to your wall decor. Wall sconces provide a subdued and warm light, and they create a more intimate atmosphere than the electric lights. One can choose a pair of wrought iron candle sconces and coordinate with a wrought iron candle
chandelier
to beautifully illuminate a space.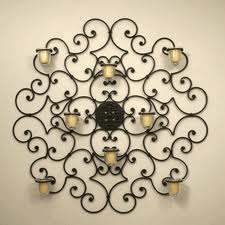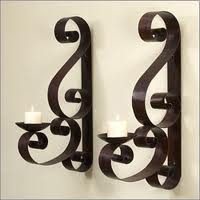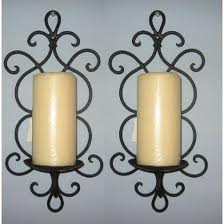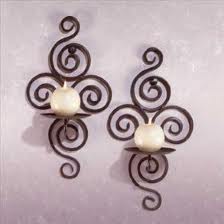 Send ONLINE ENQUIRY for Wholesale Purchase of Wrought Iron Candle Sconces, Wrought Iron Candle Sconces, Wall Sconces for Candles
Styles and Designs of Wrought Iron Candle Sconces
They are available in classic, traditional styles with curving and floral patterns. This type of wall sconces are used in palaces, or other royal buildings and are also seen in big hotels. The modern, contemporary sleek wall sconces are seen adorning the walls of offices, houses, and also apartments. And among the so-many room decorative accessories, the wrought iron candle wall sconces are very popular. The wrought iron is given various finishes to complement with the room's decor. They are electro plated which make them rust free.
Why choose Wrought Iron Candle Sconces?
Wrought iron material being a easily malleable metal can be given different shapes to the wall sconces. They are available in a wide number of styles and designs and they are much less in price compared to other metals because you can also find wall sconces in silver, brass or gold. Wrought iron wall sconces can be a focal point of your room. You can decorate your bedroom or living room with these wrought iron wall sconces. These candle sconces are not as bright as modern room electric lamps, but they can be a good light source.
They are available in varied sizes from the large sized wall sconces covering large areas of walls in living rooms or the small sized sconces that can cover small part of your foyer or hallway. For creating a highlighting appearance in your room, make use of different sized candles in your sconce. This will create a different effect when the candles are lit. For a soft quiet light perfect for a small room, you can use a tea light in a sconce. On the other hand, a votive or taper can be used to allow for more lighting to brighten that piece of art that so often gets neglected.
Interior decorators also suggest to use different colored candles in the wall sconces. To match with your home's decor and the scheme of colors already present in your room, you can change the candle's color. They are wonderful
wrought iron wall decor
items.
Where are Candle Wall Sconces Placed?
Candle wall sconces look good on the large bare wall of a living room. They can be placed on the entryway. For enhanced look of the wall and curtains of a room, wall sconces can also be placed on either side of a window, beautifully accenting the curtains. From dining rooms to bedrooms to bedroom, you will always find a place in your home that will look exceptional with a wrought iron candle sconce.