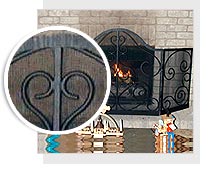 Nothing makes a home cozy like the crackle and warmth of a fireplace. Fire is hypnotic, and the relaxing and warm ambiance that is generated with a wrought iron fireplace, is unlike anything else in a home. They not only offer warmth, but also add beauty to a new or existing home. Incredibly delightful, these wrought iron fireplaces are not just a piece of art. They are the stories of pure perfection, sheer dedication and undying spirit. These fireplaces are for those who appreciate beauty, grandeur and excellence.
Revive the passion and ignite the fire of love and affection with splendidly designed and crafted array of quality wrought iron fireplaces which will definitely enhance the beauty of the living sphere and render a royal touch to it. Chiseled to perfection, every fireplace is a creation par excellence.
A great feature about wrought iron is that it has a natural resistance to corroding, hence, wrought iron fireplaces ensures long life. It is an excellent material as its surface is extremely resistant to corrosion, scratches and abrasions. The craftsmanship and functionality these fireplaces carry make them a practical yet exquisite piece.