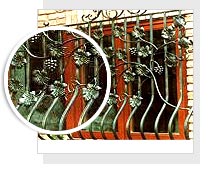 Metal windows were very popular in the ancient period. The first metal, in fact, which was used by medieval blacksmiths to make windows was wrought iron. The simple wrought iron frames were glazed with stained glass or clear leaded lights. These decorative iron windows were popularly used for holy buildings and country houses as it was a costly affair and could be afforded by rich only. However, with the growth of Palladian architecture in the early 18th century, the popularity of wrought iron windows fell down for a while. However, these windows with leaded lights continued to be used in churches and in some domestic buildings. In the 19th century, there happened Gothic Revival and the Arts and Crafts movement which again brought wrought iron windows in fashion. Today, with the immense popularity of
wrought iron decor
, these windows have touched the pinnacle of their glory.
Modern Wrought Iron Windows
The modern wrought iron windows can be seen in different forms. Sometimes there are only
wrought iron grilles
on windows and at other times one can see larger window sash. A sash window or hung sash window is constructed with one or more movable panels or "sashes" that form a frame to hold panes of glass which are often separated from other panes or "lights" by narrow bars.
The modern wrought iron window can be found in both- fixed and operable styles. Some of the decorative windows include decorative black wrought iron swirls and delicate leaves set against a high opacity glass. These windows are available in either a top-hinge awning style or a side- hinge casement style. They are often set in double pane glass for energy efficiency. The interior glass is kept clear for revealing the beauty of the wrought iron design.
Not only windows, wrought iron window guards are also there for residential homes and larger commercial projects like apartments, restaurants and hotels. They are all specialty windows fit for weather resistance as well as to allow for fire exits and other emergency requirements. As far as finishes are concerned, many of them can be found including Buckingham gold, iron with light rust, antique bronze, iron with no rust, iron with full rust, aged gold, patina bronze, antique silver to name a few.

Send ONLINE ENQUIRY for Wholesale purchase of wrought iron windows and get the best response from reliable wrought iron windows manufacturers and suppliers.