Handrails are designed to provide stability or support while ascending or descending stairways and escalators in order to prevent injurious falls. Other applications include bathroom handrails, which help to prevent falls on slippery, wet floors. Nowadays handrails are designed as ornate accents for indoor or outdoor. Since ornamental iron has become very popular for home decor, so wrought iron handrails are gaining prominence in the market.
Also there is a wide variety of designs available in wrought iron handrails, right from a simple design to classic designs which makes it a very popular choice these days for the home decor.
Styles of Wrought Iron Handrails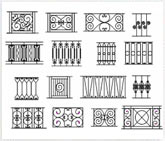 These hand forged iron handrails look marvelous by themselves even if made in the most simplest form. However, these days, the wrought iron manufacturers make so many types of decorative wrought iron handrails that one has got wide variety of options to choose from. Also these decorative handrails can be customised as per the requirement, thanks to the flexible nature of this metal. Certain common types of iron decorative handrails are described here:
Grooved Handrails
These iron railings have a long, narrow indentation that attaches to a wall, usually on staircases. They can be explained as a tongue-and-groove joints that are good options for wall mount rails. The grooved wrought iron railings are ended in various ways to give them decorative accents.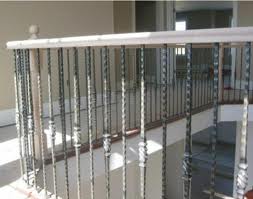 Engraved Handrails
The engraved handrails have beautiful engravings on them and are generally preferred as
stair rails
. The engraved designs are formed by cutting the metal very delicately which needs great craftsmanship.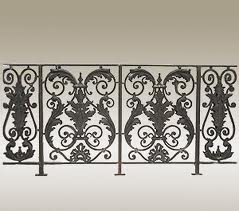 Tubular Handrails
Tubular handrails or pipe handrails are hollowed tubes of wrought iron having different forms and decorative shapes. They are less expensive and are good as wall mounted handrails. Despite their being less expensive, they look great and are very strong.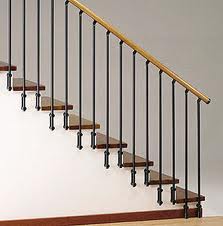 Bowed Handrails
Bowed handrails can be found anywhere as
deck railings
. With their bulged portion and artistic curved appearance on decks and porches, they can give attractive look to any house.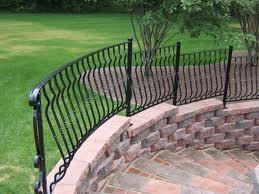 Twisted Handrails
Twisted handrails give the impression as if they are dancing with joy. Twisted railings are also used with straight pickets by fabricators to produce many variations of handrails. Sometimes both of them are arranged in alternative manner and sometimes in some calculated manner (like a straight picket and then two twisted ones)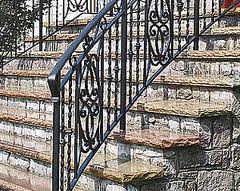 Solid Handrails
These are the strongest handrails which are mostly used as
wrought iron fences
. They may or may not be decorated. If they have to be installed for security purpose, people prefer them as straight solid square shaped rods and if they have to serve the dual purpose of safety plus beauty to the outdoors, they may carry some design on them.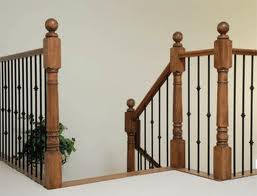 Advantages of Iron Handrails
Broad array of designs & styles and ease to install makes iron handrails a popular choice.
Wrought iron railings provide a very graceful look.
Wrought iron handrails come in a variety of shapes & sizes and fit into any type of stairways.
Very low maintenance is required.
They are durable & highly resistant to any type of weather so makes a good choice for outdoors.
The only disadvantage of wrought iron handrails stairs is that they are quite expensive.
Selection Tips Check out Tips for Buying and Installing Iron Handrails
Importance of Iron Handrails Iron stair handrails, balcony, decks etc. add elegance to every home, and increase their value at the same time. Their characteristics are made up of newels,balusters, treads, risers, handrails, fitting, and other accessories. However, the most distinguished feature remains the handrails. They help harmonize the elements of a facade and call attention to the importance of the entranceway or other features. They provide support for those going up and down the stairs as well as offer an ornamental structure for one's abode.