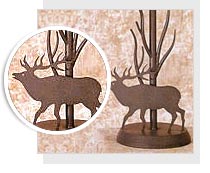 To wander a well tended garden is a welcome escape for the gardener as well as his visitors. One can make a garden, a showplace by enhancing its decor with the timeless beauty of hand-crafted wrought iron products and create a captivating garden of delights. Wrought iron gives a multitude of idea inspiring items that can enhance the garden experience.
The presence of animals surrounded by woods, and greenery, adds to the beauty of nature. A new approach to bring beauty in the living sphere is to add our range of exclusively designed and crafted wrought iron bird figurines to the exteriors. It will bring the real beauty of nature at your doorstep. Wrought iron animal figures feature the highest quality metal, welds, and finish available. The enduring quality of the purchase will always be there for utmost enjoyment.
Incredibly delightful, expressions of animal figurines crafted from wrought iron are not just a piece of art. They are the stories of pure perfection, sheer dedication and undying spirit to give a shape to a legend in its own. These artifacts are for those who appreciate beauty, grandeur and excellence. The wrought iron animal figures, commonly found are birds including pigeon, sparrow, peacock, parrots, nightingale, etc, rabbit, squirrel, fishes, tortoise and many more.