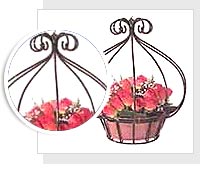 Nothing adds more beauty to a porch or deck than hanging baskets. Add life and color to your home exterior with a beautiful decorative wrought iron hanging baskets, which act as potholders or planting moss baskets. Wrought iron garden decor products look and feel better. These products are built to age gracefully and will last for a long time to come.
Wrought iron hanging baskets are beautifully shaped with very good soil and water retention capacity, are flat bottomed and can be mossed. Their shape provides extra space to allow roots to grow and encourages luxurious growth. Strong iron strips gracefully form the baskets with a textured black or white finish that provides years of carefree use. These baskets provide a unique design and allow to create beautiful, lush floral displays both Indoors and Outdoors.
Hanging flower baskets are effective in balcony settings where the space is a premium or to add height in courtyard or pergola settings. Hanging baskets can add a new dimension to a landscape. The hanging flower baskets create a colorful touch to vertical empty spaces and bare walls. They are suitable for all kind of gardens and create vertical scapes.