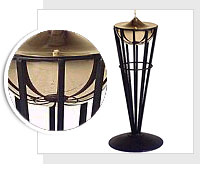 Garden torches add atmospheric lighting to any outdoor event
and also lightens up the entry way or path way leading up to ones home. Garden torches made from wrought iron gives an antique touch to the garden and the light reflected from it allows people to revel in the wonder and mysticism of olden days. These torches come in a variety of shapes and structures making them attractive decoratives adding light to the back yard. They are an exciting addition to ones enjoyment of garden as an extension of living space.
The various garden torches such as "Designer bellis oil lanterns with copper pots", "Garden torches with tea light holders", makes garden lighting easy since these torches do not require wiring to light up. Standard butane or propane gas cartridges make these torches easy to use and safe too. They recreate the bygone era in ones own back yard and adds charm to the event.
Finish
The finish of a garden torch makes it durable and strong to withstand extreme weather conditions while skilled craftsmanship leads to the unique designs and styles thus making them a valuable and attractive addition to the gardens. The various finishes such as copper antiques finish, copper polished finish, powder coated matte finish, high gloss metallic finish, black and hunter green finish, grecian bronze finish, antique pewter finish and many more make the garden torches more attractive and gives them a polished look.