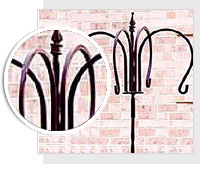 A shepherd hook placed in one's backyard or garden adds an old world charm to the surroundings with its classic beauty and quality design. The shepherd hooks come in a variety of shapes and designs which helps in embracing the natural beauty of its surroundings. Differently designed shepherd's hooks are extremely useful items in beautifying the yard while serving the purpose of hanging utility items.
Wrought Iron Shepherd Hooks
Wrought iron is the most widely used material in manufacturing shepherd hooks. Since a shepherd hook needs to be strong and sturdy for holding large and heavy hanging flower baskets, it is imperative that the wrought iron metal is sturdy enough to handle it. Besides, the metal can be beautifully molded to give various shapes and patterns with various finishes so as to make the shepherd hook a wonderful architectural piece with an unique beauty and functional purpose.
Styles and Finishes on Wrought Iron Shepherd Hooks
Usually the iron shepherd's hook is a long standing rod and has finials or hooks. The beauty of the shepherd hook lies on the shape of the finial or hook. The hooks can be in normal u-shapes or in floral or curvy or bud shapes. There can a single hook or double hooks or mutiple hooks in a shepherd hook. For long lasting durability and beauty the shepherd hooks are powder coated or electroplated in attractive colors like dark green, deep matte black color, black, brown rust, pewter, burnished gold etc. which makes the shepherd hooks weather resistant and strong. They can easily be spray painted to match any color. There are different ways to decorate a shepherd hook. For this, check out our article
Uses of Iron Shepherd Hooks
The wrought iron shepherd hooks can be used for multiple uses such as hanging a bird feeder, decorating it by hanging flower baskets, wind chimes, lanterns, bird houses, bug lights, windsocks, and much more etc. The shepherd hooks help in achieving both the functions of bird feeding as well as backyard beautification. A heavy duty shepherd hook is also used in weddings, garden parties, garden decoration, or special events. The perfect shepherd's hook with beautifully shaped single hook or multiple hooks or
brackets
can support the largest floral display or other beautiful decorative hangings in your patio or outdoor space. They are free standing and some have adjutable height features. A shepherd hook can also be used indoors near the fireplace to hang fire tools or at the entry way as coat or umbrella stands etc. Wrought iron shepherd hooks are one of the widely used
garden decoratives
.

Send ONLINE ENQUIRY for wholesale purchase of wrought iron shepherd hooks, shepherd hooks, iron shepherd hooks, cast iron shepherd hooks and get the best response from shepherd hooks manufacturers and suppliers