Featured Photo Article

Wrought Iron Diwali Gifts
Check out in this photo gallery the different gift options made of wrought iron for this Diwali...

Wrought Iron Shelf Brackets Designs & Uses
Check out in this photo gallery the different designs of shelf brackets and how you can use the wrought iron shelf brackets in various ways...

Beautiful Decorative Wrought Iron Door Stoppers
26 July 2011- Check out some beautiful decorative wrought iron door stoppers pictures here...

Modern Wrought Iron Gazebo Designs
20 July 2011- A wrought iron gazebo can play a vital role in enhancing the look of your garden or patio. Wrought iron gazebos are available in various designs, shapes and sizes...

Aesthetic Styles of Wrought Iron Chandeliers
28 January 2011- Any chandelier provides a beautiful way to add focus to a large room or elegance to a small one. Wrought iron chandeliers are regarded as the epitome of gracious lighting...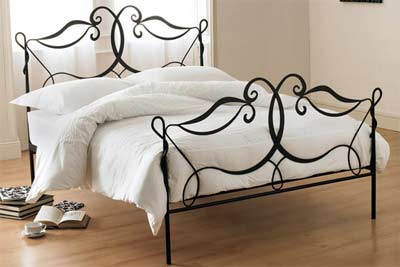 Varied Designs of Wrought Iron Beds
19 January 2011- Wrought iron beds have a very high appeal and are seen in many modern homes today. Having their own distinctive charm and appeal, these beds are wonderful decorative accents....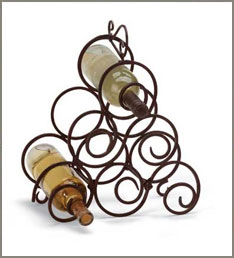 Wrought Iron Wine Racks: Designs and Styles
7 January 2011- Wrought iron wine racks have been in use in modern homes as a wonderful display of wine bottles. They have always been a popular solution to storing wine which also give an enhanced look to the home decor....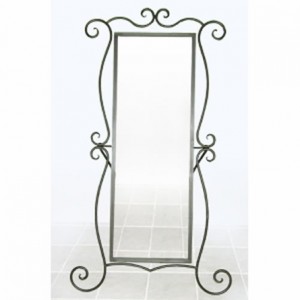 Wrought Iron Mirror Designs
4 January 2011- Wrought iron wall mirrors are available in a multitude of shapes and sizes, thereby giving you a chance to create any number of distinctive displays on the walls in your home. It would give a very wonderful look if you hang a very large wrought iron mirror on the living room wall...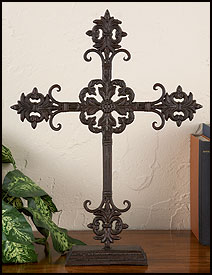 Wrought Iron Crosses For Christmas
10 December 2010- Wrought iron wall crosses have today become one of the most widely used decorative accents at home. Now with the Christmas season approaching, they have become all the more popular in the market...

Decorative Wrought Iron Candle Holders for Christmas
6 December 2010- Christmas is a great time of year for wrought iron candle holders. The soft glow of candlelight brings a warm and comfortable touch to the already special Christmas atmosphere....

Wrought Iron Halloween Decoration
28 October 2010- Halloween decor is obviously taking too much of your thinking space! If you really want some great Halloween decoration ideas not only for indoors but outdoors too than wrought iron Halloween products are the answer to it! You will get....

Wrought Iron Decorative Wall Panels
27 October 2010- Wall panels have become popular as the newest option for metal wall art. People these days love to use decorative wall panels indoors as well as outdoors to lend an extra charm to home decoration. Wrought iron panels with their high designs are....

Elegant Wrought Iron Towel Holders
08 September, 2010- Wrought iron furniture and accessories look absolutely stunning in all kinds of interiors. With its growing popularity the wrought iron manufacturers and suppliers are coming up with innovative creations for various purposes....

Wrought Iron Bed Designs Just for You
30 July 2010- In wrought iron bed design style and comfort go hand-in-hand. Wrought iron furniture is painted or decorated piece ranging from very simple to complex designs. Wrought iron bed designs are numerous as it is very easy to mold this metal into...

Beautifully Curved Wrought Iron Table Base for Rectangle Glass Tops
28 July 2010- The exquisite curved wrought iron table base equilibrize the beauty of rectangle glass tops. Your home will definitely going to speak the elegance of curved wrought iron table base. You can get this for large, small, rectangular, square, oval or for any other shape and size of table...

Wrought Iron Staircase Design
Wrought iron staircase in your home give an air of modernity and spaciousness as it does not hide the area behind it. But for the perfect look the wrought iron staircase design should be perfect and must be according to the entire interior decor. Any out of sync wrought iron

Melt in the Aesthetic Look of Tuscan Decorating Style with Wrought Iron Wall Decor
Tuscan decorating and wrought iron wall decor are closely related as both of these are closely related to the Old Mediterranean charm and warmth. For Tuscan decorating style, earthy colors and dull look is preferred. Also if you look at the style then Tuscan decorating include the grapevines, grapes and...
Decorate your Window with Wrought Iron Window Grills
Wrought iron grills are used for the security and safety of the home and generally wrought iron window grills are used on the windows. But you can also use these on the front door, backyard door or at place where you have glass window at home. To decorate and beautify is another application of wrought iron window grill but the...

Wrought Iron Table Bases
From among all types of metal table bases, the wrought iron table bases have made a mark for themselves. Whether it is an iron coffee table or a dining table base- they all look so gorgeous! Not only wrought iron table legs are sturdy but they are decorative too that can lend an incomparable beauty to your home decor.

Wrought Iron Furniture Design
It is very difficult to find someone who will say that wrought iron designs are not good. Due to the ductile nature of this metal, wrought iron furniture design can be very detailed and beautiful! Most of the modern home decor styles have also adopted...

Handrails Designs
Wrought iron handrails can instantly change the looks of whole surroundings with their striking designs. Railing designs are so attractive due to few reasons. One, wrought iron is so easy to mold into any shape that it is loved by craftsmen for making various artistic and decorative handrails apart from other wrought iron crafts.

Wrought Iron Door Grill Design
Watch this photo gallery of wrought iron grill designs to know about the latest trends in iron grill designs. These pictures of wrought iron grills designs include all types of grills- either made wholly from ornamental wrought iron or combined with other metals or wood.

Wrought Iron Fences Gates- Timeless Ornamental Decoration
Wrought iron is beautiful- there is no doubt about this fact. Wrought iron gates and fences at our outdoors are even more beautiful, thanks to the creativity of wrought iron crafts persons.

Decorating with Wall Sconces
Wall Sconces are a great way of decorating home. They not only are an item for wall decor but are also capable of changing the whole personality of any home.