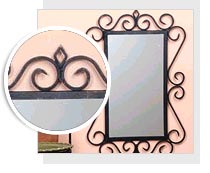 Royalty is artistically raised to perfection with the stylishly created wrought iron picture frames that are a perfect illustration of the flawless indian craftsmanship. Capture the spirit of the moment with the beautiful picture frames, which promises a lot of natural beauty to the photographs. Wrought iron photo frames have an exotic charm and are highly in vogue. They can be best defined as elegant artwork to lend a beautiful charm to one's most cherishable memories.
Types of Wrought Iron Frames
Wrought iron frames can be a normal wrought iron photo frame, where you treasure your fondest memories in the forms of photographs, or a wrought iron picture frame, where there is a beautiful picture framed or a mirror frame. Available in different variety of designs, styles, finish and size, photo frames may be used for specific purposes and can be named as, wedding picture frames, birthday picture frames, anniversary picture frames and many more. A truly befitting enhancement for any home, these frames offer a beautiful way to display and store precious pictures and truly symbolize the grace of Indian art and crafts. The
wrought iron mirror
frames are a wonderful bedroom or living room decor.
Designs of Wrought Iron Picture Frames
Wrought iron picture frames have gained immense popularity for home decor. The beautifully handcrafted picture frames of wrought iron can bring life to an otherwise empty wall decor or any corner of the room. The metal being easily malleable can be given varied shapes and patterns. For a modern, contemporary home, you will find wrought iron picture frames in sleek, straight patterns while to complement a traditional decor, there are wrought iron picture frames in floral, curvy patterns. There are end number of designs of such frames. The frames are given different finishes. They are mostly electroplated and given different paints to match the deocr. The most popular ones are the black wrought iron picture frames. Also common are the white, gold and silver finish wrought iron picture frames. Wrought iron picture frames are very stylish- both in traditional as well as contemporary looks.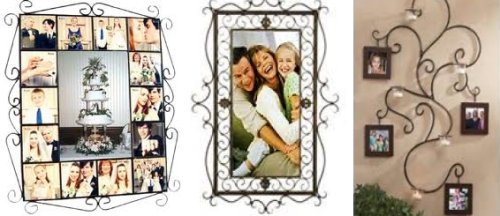 Send ONLINE ENQUIRY for wholesale purchase of wrought iron picture frames, wrought iron photo frames, wrought iron mirror frames