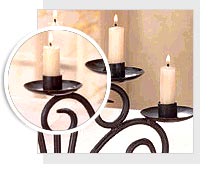 Curvacious design and ethnic style come together to form shapely Candelabra's with graceful appeal. Whether, styled in a traditional or contemporary form, they add creative interest to one's place. These are not pieces, which are meant to be placed in the corner of a room to throw little light, rather, they are something that draws attention and defines the space around them. Wrought iron candelabra add elegance and style to home decor, and lighted candles magnificently transforms the ambience of the night. They are also used to give a room, increased depth and balance.
Candelabras are the decorative candle holders with set of multiple decorative holders, each of which holds a candle on each of multiple arm. These handsome iron candelabras comes in a wide variety of designs, colors, finishes and features an intricate finishing technique. Designs can range from minimalist contemporary to intricate antique patterns. Some are even designed with a frame that can expand and compress to fit a range of fireplace sizes.
How to decorate a wrought iron candelabra?
A candelabra with several candle-holder branches makes an ideal focalpoint, as well as a subdued lighting element. The material wrought iron itself adds to the beauty of the candelabra. However for special occasions, the beauty of the wrought iron candelabras can be further enhanced using simple craft items like ribbons, flowers to create a themed decor piece. Presenting below few simple tips of decorating a wrought iron candelabra at home:
First of all choose tall tapered candles to place on the candelara. Choose the colors that match with the room's decor and the color of the walls. For a specific theme, choose colors accordingly. For example, you can opt for red and green colored temples for Christmas. For birthdays of kids, go for multi color candles. Use pastel pink and green candles to set a summer garden decor. Beaded candles are also a good option.
Enhance the look of the wrought iron candelabra with flowers and vines. For example you can use a wired faux mini-ivy vine and wrap it around the candelabra's base and branches for a garden party. Or you can use a small evergreen garland as Christmas decor. Go for artificial red poinsettia flowers for a Christmas theme or tulips and roses for a summer theme.
Another way to decorate a candelabra is by using ribbons. Choose ribbons of different colors. Tie the ribbon into a bow directly under the candelabra's candle holders. Or else you can completely wrap the base of the candelabra with wire ribbon.
You can also use glamorous decorative items like crystals, beads, pearls to create an elegant candelabra. Drape faux jewelry or beads strands over the candelabra's branches and base.
Today, decorative candelabras are seen at wedding celebrations, from the ceremony to the reception , in churches and in homes as a popular interior decor. Transform any style of a wrought iron candelabra into a more beautiful decorative accessory with a few simple decorations. Crystal prisms, crystal strands and flower blossoms add charm and beauty to candelabras.