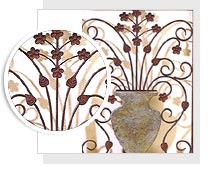 Adding wrought iron wall hangings to your home can make your otherwise dull wall more beautiful and eye-catching. You can either hang one decorative iron wall hanging or display different pieces to add more interest. No words can do justice to the beauty of wrought iron wall hangings, which decorate one's interiors with their unmatched beauty and ethnicity. With their exotic shapes and superior finish, wrought iron wall hangings are the latest wall decor items for all who love art and handicrafts. The beautiful wall hangings impart sophisticated and enriching look to the walls lending a fresh and elegant look to the home, office etc.
Different Tyes of Wrought Iron Wall Hangings
The wrought iron wall hangings are available in a wide range of shapes, patterns and sizes. From varied geometrical shapes, floral designs, abstract patterns, including figurines of animals and birds, these
wrought iron wall decor
items suit well in almost every type of house. There are several decorative wall hanging items like as follows:
Wrought Iron Wall Hangings for Home Decoration
These highly ornate wall hangings crafted by the Indian artisans signify the beautiful ways in which innovative ideas are turned into real masterpieces. They are an item of increasing potential and becoming quite popular in both domestic and foreign markets. These decorative iron wall hangings are connoisseur's delight with their elegant looks and distinguished features. Their intricate designs, which are created by the adept craftsmen, are a sheer visual delight.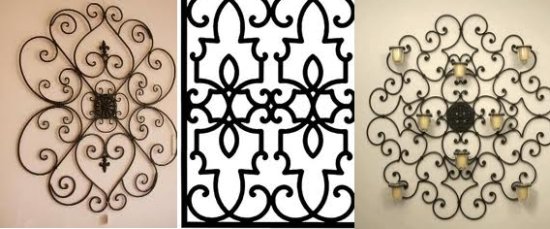 Send online enquiry for wrought iron wall hangings, wrought iron wall decor, decorative iron hangings