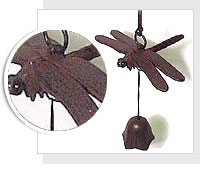 Wind chimes are the perfect accessory to bring in the sound of music into one's space and heart. The sweet tinkling of the chimes is so soothing to one's ears that one cannot help but get carried away by the lovely sound made by the wind chimes. These chimes can be placed anywhere in one's home but the most suitable area would be threshold or balcony since the wind flowing in will make the chimes swing to its tune.
Wrought iron wind chimes come in a variety of shapes and sizes and make extremely pretty home décor items. The wind chimes come in a variety of designs such as "Wrought iron bear wind chime", "Wrought iron elephant wind chimes", "Wrought iron round wind chimes" and many more.
The exotic handiwork done on garden wind chimes lend them a special appeal and unmatched grace, which is very hard to miss. The size of most of the wind chimes is 14 to 15'' inch approx.
Finish
The finish of the wind chimes should be properly executed because they are constantly exposed to outdoor conditions to a certain extent and hence black or white powder coated finish, rusted finish, vibrant colorful finish, antiqued or polished finish etc. are suitable for the wind chimes to protect them from rust and make them more attractive and durable.
Related Article