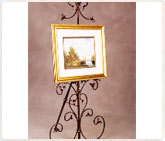 An easel is an upright tripod for displaying something, usually an artist's canvas. However, easels are no longer a requirement only for artists. Decorative wrought iron easels are now used for a variety of purposes. They make a beautiful and strong display for menu boards, seating arrangements, framed photographs, paintings,
mirrors
, notice boards, books,
signs
etc. Art galleries and museums display their special pieces using easels. They are used in shops for drawing attention towards signs and notices. Hotels and restaurants use easels to attractively display their menus and tempt their customers. They are even used at homes to add depth and dimension to various artworks. Easels, when used in offices, give a professional image to the whole surrounding.
There are many types of easels. The conventional artist easel is often designed to promote correct posture and comfort to provide a stable base on which to paint. There are convertible & field easels as well as studio easels. They can be portable, collapsible and may have many other features to help the artists or executives perform their work with full ease. The decorative wrought iron table top easels are widely used to display various mementos like family photos, wedding albums, books etc. They are mostly lightweight and can be easily transported if one needs to change their place more often. Tripod Easels can save plenty of floor space in a small room. Then there are taboret easels that perform a variety of roles. These easels have
shelves
for storage and provide flat work space for projects involving full sheets like that of watercolor paper.