31 May 2010- Wrought iron decor has witnessed a phenomenal growth in this century. People long for buying wrought iron products whether it be furniture or any other decorative item. In such a situation when demand for wrought iron is at its peak, its natural that some fake wrought iron is also made available in the market by fraudsters. As such, anyone who wants to go for wrought iron decor must know how to buy wrought iron so that genuine products come home. Here is a wrought iron buying guide with facts and tips to buy wrought iron!
Buy True Wrought Iron
There are two types of wrought iron. One is the hand forged wrought iron which is also considered the true wrought iron and the other is cast and machined iron. Wrought iron products made with true hand forged wrought iron are made with incomparable details and no two exact pieces can be found made with this type of iron. They are solid and sturdy that last forever.
Buy Authentic Wrought Iron
Again, hand forged wrought iron can be called the authentic one as against the cast iron. You can find out whether the wrought iron product you are buying is hand forged or not by looking at the scrolls, finials, welded joints and other decorative parts that will instantly show signs of cast and machined iron if it is not the authentic hand forged wrought iron. Some of the cheap wrought iron items may have seams from the case and also half welded joints that are prone to moisture damage. Carefully examine the wrought iron to check for rough spots, splits, breaks or flaws that decrease the tensile strength and invite rust on wrought iron.
Look for References to Buy Wrought Iron Crafts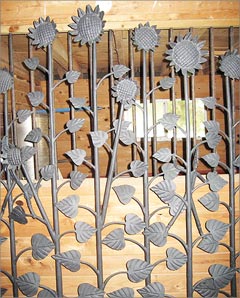 Hand Forged Wrought Iron Work
Wrought iron is expensive and you can't rely on inexperienced craftsmen to make your custom wrought iron products. Whenever you hire a blacksmith or artisan for making customized wrought iron railings, fencing, gates or any other decor, check the references. If possible, visit their forge to make sure that they have all basic things available to make your item.
Buy Online Wrought Iron- Some Tips
When buying wrought iron products online, always make sure to buy from a reputable dealer having quality products. Authentic websites will have contact details of wrought iron manufacturers listed properly. Also the videos and pictures of their products on the site will be clear. The site will also have detailed images highlighting the unique design characteristics, finishes etc. of each item. If the online store has clearly indicated items with detailed pictures, easy access to contact information and a satisfaction guarantee you can be assured of buying genuine wrought iron.
More Tips to Buy Wrought Iron
Here are some tips that you must consider before buying and some that you must check after buying wrought iron products.
Ensure that the wrought iron merchant provides guarantee against manufacturers defects and other damages that are not due to buyers' fault.
When buying online, give a call to check the firm's existence.
Buy wrought iron items that have been coated with powder-coat paint to reduce moisture accumulation and to prevent rust.
Inquire about the types of finishes available on stock and custom pieces of your selected item. Some wrought iron pieces have the option of hand applied overcoats to the powder coat base. Read the descriptions carefully.
Make arrangements for properly unloading the large wrought iron products such as furniture. Ask the shipping company to provide a lift gate service for very large items.
When you receive the ordered product, check for any signs of damage to the package. Refuse the delivery if you doubt that your item may be damaged.
If you accept your item and see that it has shipping damage, note it down and take pictures. Then contact the wrought iron store immediately.
If you follow the above tips when out to buy wrought iron products, you will never regret about taking decision for decorating home with this marvelous black metal!
Take a look at the list of
Wrought Iron Handicrafts Manufacturers & Exporters
and send your buying requests through this simple Enquiry Form