The shepherd hooks are useful decorative objects designed for use in gardens and outdoor landscaping. The long standing rod of varied heights and sizes have beautifully shaped finials and hooks to hang various items. The
are given different finishes or colors ranging from silver, black, white to rust brown, green, burnished gold, copper, pewter etc. You can easily add your own style and beautify these wrought iron pieces with the right decorating supplies.
There are various ways to decorate a simple a wrought iron shepherd hook. A few easily available decorating items can transform its look in a beautiful way. Of course, this depends on your artistic taste as well.
Things to Hang in a Wrought Iron Shepherd Hook
After decorating the shepherd hook with paint, beads, colorful papers, ribbons etc, you need to consider the things that you can hang in the hook. A shepherd's hook or the finial is usually in U shape or bud shape or other curved shapes and patterns. The curved hook is used to hang decorative items for your home.
Flowers
A wrought iron shepherd hook is a great place to hang fresh or dried flowers. All you need is a beautiful flower pot or basket with the flowers and hang it in the hook.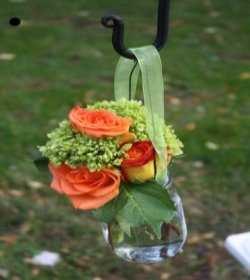 Wrought Iron Shepherd Hooks with Flowers
Lanterns
You can hang a lantern on a shepherd's hook. This looks good when you have a long stretch of shepherd hooks with the lanterns. They look great in wedding parties. Also shepherd hooks with lanterns are ideal for a parade, a lantern procession, or an evening event.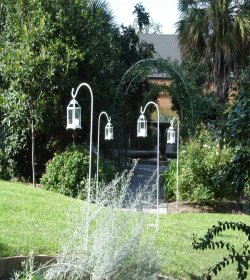 Wrought Iron Shepherd Hooks with Lanters
Bird feeder or bird house
For garden areas, one of the most common items that is hanged in a shepherd hook is the bird feeder or bird house.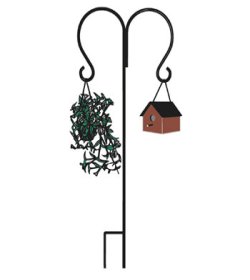 Shepherd Hook with Bird Feeder
Wind Chimes
Another way of decorating a
shepherd hook
is by hanging a wind chime. The trinkling sound of the wind chime in the garden gives immense tranquility with beauty.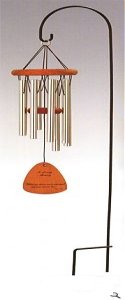 Wrought Iron Shepherd Hook with Wind Chimes