14 Dec, 2010-As we enter the festive and holiday season, it is time to find the perfect gift for your family and friends for Christmas. There are so many choices of beautiful wrought iron products to give as gifts for almost everyone on your Christmas list. Traditionally wrought iron was considered just as a material which was used to produce railings, grills for outdoors, heavy gates, windows etc. With time, it was found that the metal is so strong , durable and easily malleable that it can be also used to make a wide range of handicrafts for home decor. Today wrought iron crafts provide an amazing range of products from furniture to handicrafts to lighting and decorative products. Just check out the top 5 wrought iron items just ideal to be given as Christmas gifts.
Wrought Iron Christmas Tree
Christmas tree is one of the best selling wrought iron Christmas gifts. There has been a trend in recent years of using artificial Christmas trees and hence
wrought iron tree
is a good option. The tree with several branches is just ideal to be kept in the entry way or living room or in the garden. You also get small size trees which can be placed as decorative items on shelves and wall units. These trees are available in different finishes and colors just to match every room decor. They can be beautifully decorated with ribbons, balloons, stars, bells, santa claus toys and many other items symbolic to the festival.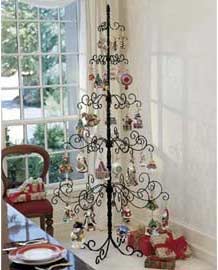 Wrought Iron Tree
Wrought Iron Christmas Mantel Hooks
The mantel
hooks
made of wrought iron are decorative, sturdy hooks which can be used to hold stockings full stash of goodies. This is one gift which is not only perfect for the Christmas occasion but also can be used as wall decor items all through out the year.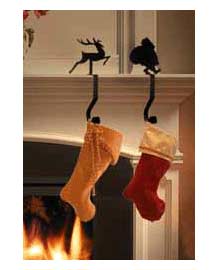 Wrought Iron Hooks
Wrought Iron Wreaths
Wreaths have always been used to decorating many doorways during Christmas. Generally, Christmas wreaths are made of fresh flowers, ferns, petals, pine cones and holly and also dry flowers. But nowadays, wrought iron wreaths are also used. They are beautiful wall decor items. Can be placed on the entrance door or on the living room wall, highlighting the spirit of Christmas. Using a wrought iron Christmas wreath hanger last for a long time and does not need to be replaced each year.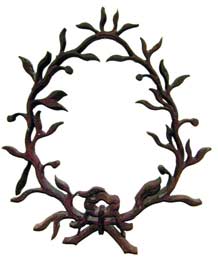 Wrought Iron Wreath
Wrought Iron Wall Crosses
Wrought iron wall crosses
are very popular Christmas gift items. While highlighting a spiritual feel in the entire room, the wrought iron cross can also make a wonderful focal point for any room. There are various
designs
available in these crosses ranging from the simple, straight cross to the flowery patterns. They are given different finishes to complement the room decor.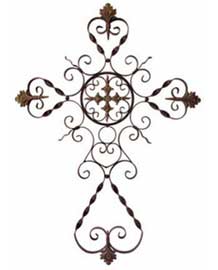 Wrought Iron Cross
Wrought Iron Candle Holders
Wrought Iron Candle Holders
are one of the most popular Christmas gift items. They are available in varied shapes, sizes and styles. From the table top candle holder to the votive holder to the wall mount candle holder, lots of options are available. They enhance the look of the room, besides adding an aesthetic significance to it. The symbols associated with Christmas like reindeer, snowman, santa claus, stars, flowers etc. are beautifully crafted using wrought iron. These
decorative wrought iron candle holders
are wonderful gift items to be cherished forever.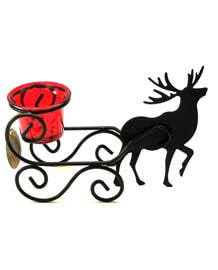 Wrought iron candle holder