8 Dec, 2010-In recent years, there has been an increasing use of artificial Christmas trees. Today the market is flooded with fiber optic Christmas trees, decorated Christmas trees, singing Christmas trees, pink Christmas trees and more, the designs keeping with today's lifestyles and tastes. There is one kind of artificial tree that can never lose its charm and style year after year and that's a wrought iron Christmas tree. Wrought iron trees have become very popular for Christmas decorations. The
wrought iron tree
is a beautiful addition to a home's decor, besides being a utility item. The tree with its strong and durable branches can be used to hang a number of items like coats, ornaments, coffee mugs, mittens, baskets etc. Christmas tree decoration is a part and parcel of Christmas celebrations. Christmas is the apt time when you can use your wrought iron tree as a wonderful decorative accent.
Wrought iron Christmas trees give a very classy look and provide any area of your home with a festive feel. They come in many sizes, shapes, and styles. The traditional black or dark gray wrought iron are most widely used but you can also opt for other colors and finishes so as to match the tree to other Christmas decorations or overall home decor. The branches of the trees in curvaceous shapes can be used to hang a number of decorative pieces. Most wrought iron trees have long wrought iron stem with a host of curled branches. The base of this tree usually have four or three legs, also with soft fluid curves or a round base, sturdy enough to hold Christmas items.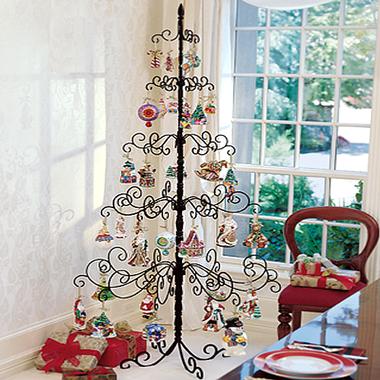 Wrought Iron Christmas Tree
Although they are very different from the traditional Christmas trees, they are very easy to decorate. The natural or the traditional Christmas tree has its disadvantage while decorating. There is always a tussle with the branches, getting them into position.
In most cases, you get a chance to show your artistic sense in these wrought iron trees by decorating them on your own. You can hang lots of colorful ribbons, small packets of gifts, glitters, stars, Santa Claus, toys, cross, decorative candles in votive holders, snow flakes, bells, wreaths, lights on the strong branches of the Christmas tree. This is the time when you can actually opt for many creative ideas to decorate you tree.
You also get ready decorative Christmas trees having spiral wrought-iron frame, with embroidered balls, stars and glass beads. Place your Christmas wrought iron tree at the entry way, near the fireplace, in the living room or in the garden and see how wonderful it looks, emitting a feeling of fun and happiness on the special occasion of Christmas.