Check out here how wrought iron wind chimes can play a vital role in not only enhancing the decor but also in the flow of positive energy. Check out here the
in which the wind chimes need to be placed, the ideal number of rods and some tips for metal wind chimes
We usually associate wrought iron with decorative furniture, railings, gates etc. But wrought iron today is increasingly used in the making of wide range of handicrafts. One of such very popular wrought iron handicrafts is the Chinese
wind chimes
. Though initially wind chimes were made of wood and bamboo, today metals are also used and wrought iron is one of the most widely used metal as it is tough, durable and easily malleable. Feng Shui, the ancient Chinese knowledge about the flow of "chi" or energy, make use of wind chimes as an effective way of bringing in luck, prosperity and positive energy in a house. They not only bring in positive atmosphere, they also render a beautiful look and style to one's home. Nowadays wrought iron wind chimes are seen in decorating both interior and outdoor space. Available in a variety of colors, shapes, sizes, and price ranges, these wind chimes with their tingling, soft beautiful sounds are surely an added enhancement in the house.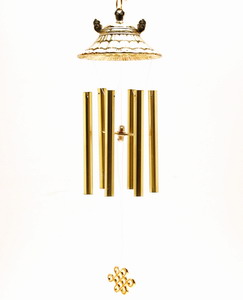 Wrought Iron Wind Chime
Directions in which wrought iron wind chimes need to be placed
Depending on the materials used in the making of these chimes, the directions are to be considered. They should be placed in those directions of the house where there is most of the negative energy. Metal wind chimes are effective when there are Feng Shui defects to be corrected in the metal element corners and water element corners. While the former is the West and Northwest directions of the house, the latter is the North direction of the house. Since metal produces water, metal wind chimes let in the positive energy when kept in these directions. That is why choosing the right wind chime is very important. As per feng shui, we use wind chimes for circulating positive energy and this depends on where they are placed. Thus, wrought iron wind chimes placed in the north, west or northwest areas of a home can bring positive energy in the house.
Ideal number of rods in Wind Chimes
The number of rods or chimes in the wind chimes has their own significant meanings. Even in case of wood or bamboo chimes, the rods are made of some kind of metal so that the breeze that flows into the room can create a perfect soft sound and it is this sound that lets the positive energy in to the house. Sound is what makes a wind chime effective. Metal chimes produce the most penetrating sound and hence, wrought iron wind chimes are just perfect for the purpose.
As for the number of rods, the ideal numbers of rods to have in a wind chime is 5, 6 or 8. These are considerd to be the lucky numbers during the Feng Shui period 8 which starts from year 2004 and ends 2024. But then again, if you want to attract good luck in your lives, use 6 or 8 rods and if you want to suppress bad luck, the most suitable number of rods is 5.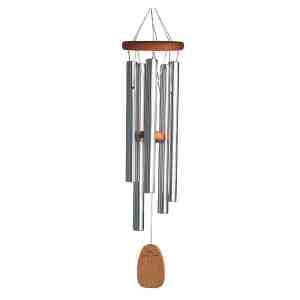 Metal Wind Chime
Some Tips for Metal Wind Chimes
Here are some tips on how you can utilize the metal Wind chimes to a better positive life:
Place a Windchime inside the toilet so as to sub press the bad luck of the toilet.
The six rod metal wind chime is an excellent remedy to remove evil influences.
A six rod metal wind chime in the West sector to activate children luck. Keeping it in the north direction can activate career luck since this is the water sector and the use of metal produces water. If you keep this wind chime in the Northwest sector, it can boost your mentor luck who in turn can help you with abundant opportunities whether it be at work, at school or in your business. The Northwest is a big metal sector and when you combine this with wrought iron wind chimes, the effect is doubled.