20 August, 2010- Style and for sure the capability of outdoor furniture material to handle the extremes of weather matters and define if that furniture is worth to purchase or not. There are many kinds of garden furniture and outdoor furniture material but you will have to check each and find out which one is the best to use.
Wood is an excellent material to make garden furniture that is both charming as well as warm. But here also all kinds are not suitable for outdoor furniture. Like you cannot purchase the outdoor furniture made from softwood. The wood used should be hard and well seasoned so that no cracks and deformation occurs. Teak Eucalyptus, Pine, Oak and Cedar are perfectly made for outdoor furniture because these have the capacity to withstand the weather. The wooden outdoor furniture is very durable and requires less maintenance.
Wrought Iron Outdoor Furniture
Wrought iron outdoor furniture gives contemporary feel with many available in Vintage and other classical styles. So the strong and sturdy
wrought iron outdoor furniture
is available in wide range from traditional to modern. Moreover this garden furniture is not as heavy as wood furniture so it will be easy for you to keep it in indoor storage whenever required. Wrought iron outdoor furniture is also rust and corrosion resistant. When it comes to maintenance then also wrought iron garden furniture is excellent as it requires very less maintenance.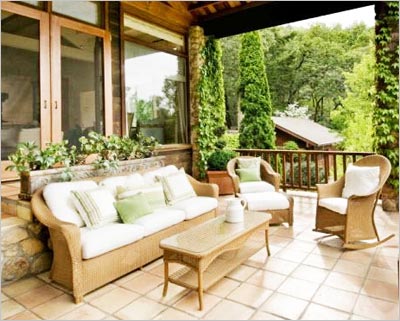 Wood Outdoor Furniture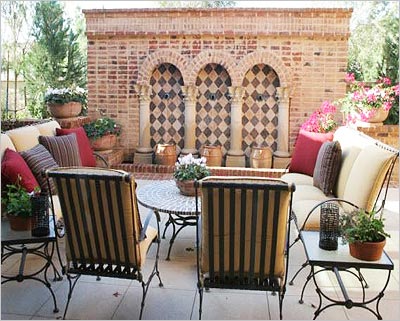 Wrought Iron Outdoor Furniture
Mixed Material Outdoor Furniture
In mixed material outdoor furniture you will find the two or three materials that are combined to form one garden furniture set. Like wood and cane, metal and cane. Also you can try placing the wrought iron chairs around teak wood table. Then you can play with the furnishings accordingly.
Wicker Outdoor Furniture
Wicker is another great choice of outdoor furniture. It is stylish, cozy and at the same time warm and very light in weight. Wicker outdoor furniture is made from cane, bamboo or rattan. Wicker outdoor furniture in now available in different colors but earlier it was confined to just neutral colors.
Wicker Garden Furniture
Furniture and Furnishing Tips For Stylish Outdoor
Outdoor space needs same attention of yours as required by the indoor setting and decoration.
Be clear on the style of outdoor furniture. You can pick any of the above said material. Make sure that it should go with the rest of the outdoor and landscape design.
Try to keep the feel very comfortable as this is the place where you spend your leisure time. Anything that is formal must be kept for interior decoration.
Think what kind of lighting you want and where as during night it will be wonderful and altogether a different feel to sit outdoor with perfect lighting.
Have one focal point that can be your furniture, garden accessories like wrought iron lantern or furnishing. You can place an artistic coffee table to grab the attention or you can have very colorful cushion all over for coziness.
Buy furniture that is functional rather than just decorative. You sit in outdoor space to relax and if the furniture is not comfortable then all your efforts will go wasted. So think the best outdoor furniture that you can buy according to your budget.